---
---
Seal the zip from Left to Right using the Supplied Plastic zip Lock, Yours clothes should now be compressed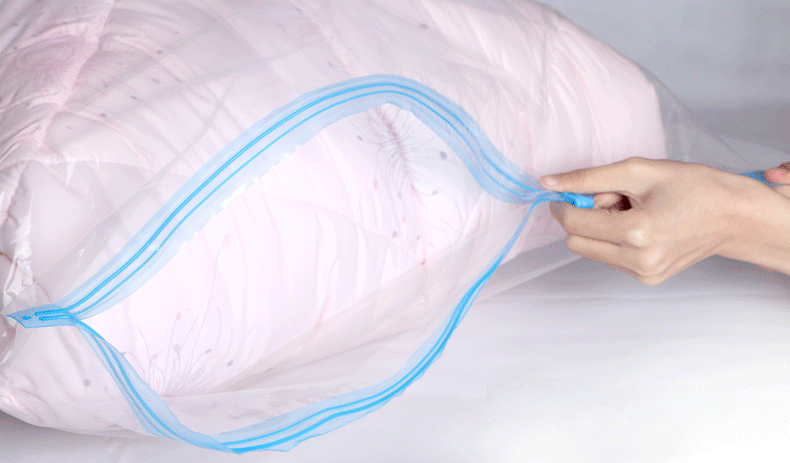 SPACE SAVING: The clothing vacuum storage bags can save 80% space for your closets, you can get closets much tidier by using several space bags. That's amazing! Start to slim your closets now!

PERFECT CHOICE TO STORE ITEMS: The vacuum storage bags are perfect choice to store bulky or out-of-season items. When you take these items out from our vacuum storage bags, they are still clean and fresh. It comes with 3 Small Bag 3X(40*60CM)+HANDPUMP

LOCKS EXTRA TIGHT: With the double zip seal and airtight valve, as well as being made from extra thick plastic, you can rest assure that no air ever gets back into our space saver bags and that they remain 100% compressed until you decide to open them again.

GOOD PROTECTIVE EFFECT: The vacuum packed storage bags prevent items from water, dust, insects, mildew, odour etc. These bulky and out-of-season items can be protected well in the space saver bags.

TRAVEL PUMP INCLUDED - Our vacuum storage bags work with any standard vacuum cleaner but they also come with a handy FREE travel hand pump to make travelling a breeze as you can easily repack your clothes for your journey home, saving you tons of space in your bag.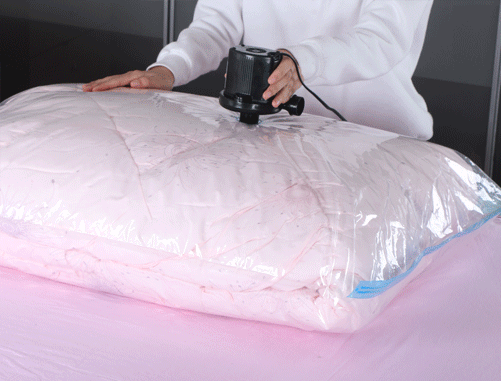 Product Features :
Space saving triple your storage space
Keep with you when travelling to reduce baggage space, reduce volume upto 75%
Use with any vacuum cleaner
Prevent dust, mould and water
Use for clothing, duvets, bedding, pillows and curtains ect
Simply place your clothes in the bag and use the vacuum to take out all the air easy and simple
Seal the zip from Left to Right using the Supplied Plastic zip Lock, Yours clothes should now be compressed
You can fit anything and everything in these bags! Don't worry - even your biggest duvet or blanket or giant beach towels will fit snugly in these bags! 
The unique double-zip seal and the triple-seal turbo valve give you the absolute best air-tight suction and sealing power of any comparable bags like these on the market. You get every single last ounce of air out of the bags, and none of it seeps back in. Other bags can't say that. 
Our roomy bags give you 80% more room than others, too. There's simply no reason not to get these! And, to make the deal even sweeter, Includes travel pump so that when you finish your holiday and it's time to come home, you simply re-pack all your clothes into the vacuum bags, use the travel pump, and your bags will easily fit into one piece of luggage!
The anti-mildew, anti-mold, and water tight features make these bags the best overall, for any purpose and under any conditions.
---