---
---
NEVER DEAL WITH A DULL KNIFE EVER AGAIN!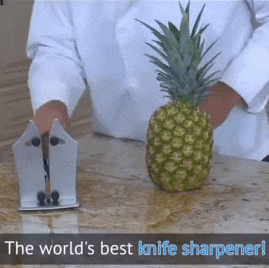 Dull knife? No need to go out and purchase a new one... we got you covered!
This is the innovative knife sharpener that works on all types of knife blades! Two independent spring-actions made of ultra-hard tungsten carbide that flexes and contours to any blade and any angle!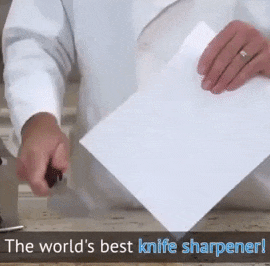 A serrated knife, a beveled knife, you name it! The Bavarian Edge will do the trick. In seconds , sharpen, hone,and polish  your dull knife blades into razor-sharp cutting tools.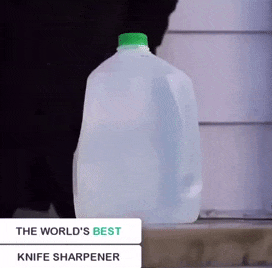 Unlike bulky sharpeners, Bavarian Edge is small enough to fit in your knife drawer or cabinet when not in use. Super compact, super convenient.

Restore your old knives  to their former glory. When you use Bavarian Edge, you can chop, slice, filet, and dice just like the first day you used your knives.
The best part is this will work on anything with an edge! Knives, scissors, wire cutters, saw blades, the possibilities are limitless! Make them as good as new.
Features:
✅Sharpen ANY knife in seconds. Old or new!
✅ Minimizes metal shavings.
✅ Portable design allows it to be taken anywhere.
✅ Nylon pads help stop slipping while operating, for added safety.
Specification:
✅
Metal Type:
Stainless Steel
✅
Color:
Black, Silver
✅
Suitable for:
Knife, Scissors and etc.
Package Includes:
4 GREAT REASONS TO BUY FROM US:
---