---
---
Amazing new Arctic Air Cooler!
Features:
❄️ Create a personal cooling zone. 
❄️ Strong wind but quietly operation.
❄️ Choose from 3 speeds and adjust the airflow.
❄️ With 7 colors LED light, can be used as soothing night light.
❄️ Auto shutoff when out of water, low energy consumption.

❄️Superior Quality: The filter is made with advanced nano technology. Capture the liquid like a magnet and without toxic chemicals.
❄️Large Absorption: Replacement cartridges for mini usb portable air conditioner from Lovelyhome is built with rapid functions of water absorption and heat absorption.
❄️Easy Installation: Do it yourself in a few seconds. After 2 minutes the evaporative cartridges will be fully hydrated and will gradually cool the air around you.
❄️How It Works: The wind takes out the negative ion of cooling for you. When closing to skin, the somatosensory temperature can feel about 5  -8 .
❄️Exclusive Compatibility: Replacement Cartridge ** ONLY ** designed for the Lovely home Personal Air Cooler (Interested? Refer to ASIN: B07DXP45PK for purchase).

Descriptions:
Water tank capacity: 750ml 
Winds speed: 3 modes (High / Medium / Low) 
Noise: less than 68dB (A)  
Humidifiering time: 6-8 hours
Specifications:
Material: plastic
Size:     165x165x170mm    
Color: white

Package included:
1 x Air Conditioner Humidifier
1 x USB Cable 
1 x User Manual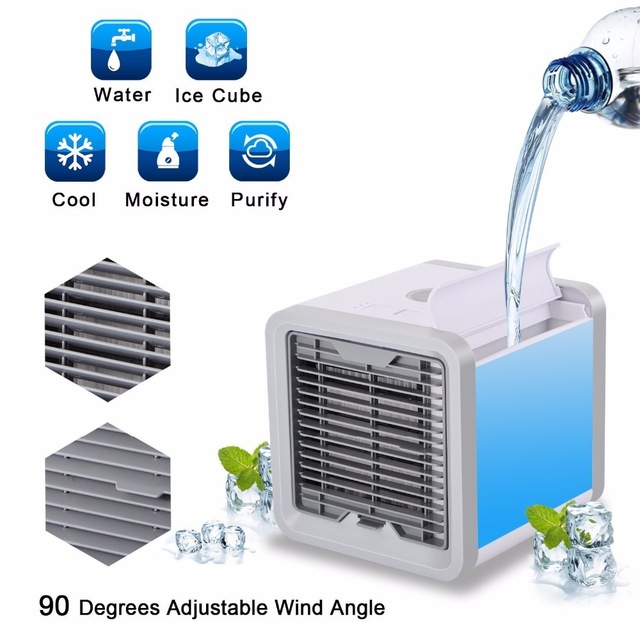 Great Reasons To Buy From Us:
---